Nowadays, the drinking water that you use contains substances that are harmful to your body. This is the reason why you should always have a good water filter or water RO purifier at home so that your family drinks safe, clean, and purified water. Here we have some best options from the topmost water purifier companies that are offering the Best water purifiers in Dubai and UAE.
Read more about Top best Water filter companies in 2020
Aqua Hygiene has a wide range of water filters and RO water purifiers, Aqua water purifier is used to filter the unpurified water that comes through our tap nowadays. So, it's important for every family to install water purifiers in their house, this situation creates immense pressure on the companies who manufacture this product to make those products more attractive and affordable for the customers. Aqua Hygiene Water Filter introduces one such product to the market namely Aqua Hygiene Water Filter RO (Reverse Osmosis) Purifier Under Sink 7 Stage Drinking Water Filter. They design this product to tackle most problems produced by water pollution. The product helps to filter bacterial impurities as well as organic and chemical salts one by one in various levels of the water purification process. It helps the water to maintain its natural freshness and smell free water. Drinking pure water helps to improve our body's metabolism and keeps you hydrated. The purifier comes with a huge capacity of up to 400 GPD (Gallons Per Day). The Aqua 7 stage water filter weighs only 14.5-Kg with a diameter of 49 x 17 x 12 inch and it works on a 220V electric supply. The purifiers have 7 stages of the filtration process and each stage holds its own unique pre-filters. The Aqua Hygiene RO Water Purifier comes mainly in white color with a unique design and installed under the counter.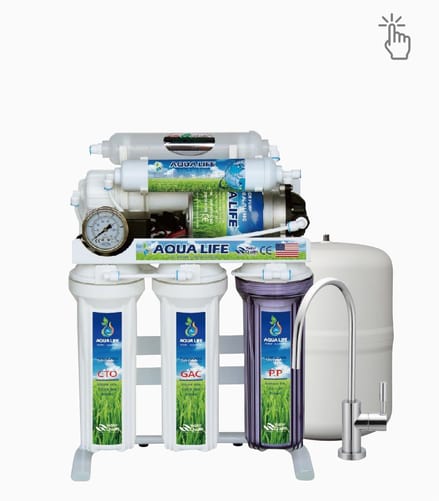 Aqua Life reverses osmosis RO water filtration system for drinking water, and backed by aqua industry-leading customer support, the AQRO75 is unequaled in quality, performance, and durability. The system consists of 6-stages, layered filtration built around precision reverse osmosis (RO) technology that removes over 1000+ different kinds of contaminants in order to provide the best home drinking water filtration available. Unlike some other systems, the combination six filters provides greater protection against harmful chemicals. It features a 75 GPD (Gallons Per Day) capacity RO membrane from DOW Filmtec, which is larger than most in its class and provides the capacity to economically handle the drinking water needs of even a large family. Stage 1: Removes salts, sand & Sediments Stage 2 & 3: Removes Chlorine and odor Stage 4: Dow Filmtec RO Membrane 75GPD Stage 5: Re-Mineralization, add the healthy minerals back that are stripped away Stage 6: Coconut shell activated carbon for final water purification
Kent RO Purifier System is India based company design and manufactures water purifiers for home use. In UAE most selling model in a water purifier is KENT Excel plus RO (Reverse Osmosis) with multi-stage purification (RO+UV/UF+TDS Controller with Intelligent Electric Notifier) purifier which comes with a compact filter cover box design that suits every kitchen. Excel+ install in the kitchen under the sink, Kent Excel+ purifier suits more for small office and for small families up to 15people, because it's consumed low space and fits under the sink in the kitchen or side cabinets. It comes with a hydrostatic pressure tank of 9liters help to provide water even in the absence of electricity. RO purifier comes with advanced features that other products don't have like clean the raw water and adjust the mineral level that should be retained after the purification process. The double purification process by using the technology of RO+UV/UV (Ultraviolet/Ultra Filtration) and Kent advance computer-controlled electric notifier helps you to identify it's filter failure or any other faults that occur in the Kent device. We can trust this product that it doesn't give unpurified water at any cost. It has a water level indicator that helps to understand the level of water in the storage tank and shut down the machine. Kent all under the sink or countertop models are made from good quality food grade plastic and steel parts that comply with the health standards.
Need for KENT RO Water Purifiers
- Today the need for clean drinking water has become a necessity. Every year, millions of peoples get infected by water-borne diseases and thousands lose their life. The water you consume may contain high TDS, bacteria, viruses, pesticides, and harmful chemicals. Also, the water supplied at homes passes through rusty and old pipelines and gets stored in unhygienic tanks. Ensuring that the water is purified just before drinking is of utmost importance. Hence, RO water purifier has become a critical need for healthy living and well-being of you and your family.
Removes Dissolved Impurities from Water
Makes Water 100% Pure Drinkable
Mineral ROTM Technology
Multiple Purification Process
Smart Designs
World's Best Quality Certification