Aqua Hygiene offers a range of water-related services from drinking water, conservation, treatment, and filtration; to help ensure your products are built to last. You can Depend on us, every time. Water is life.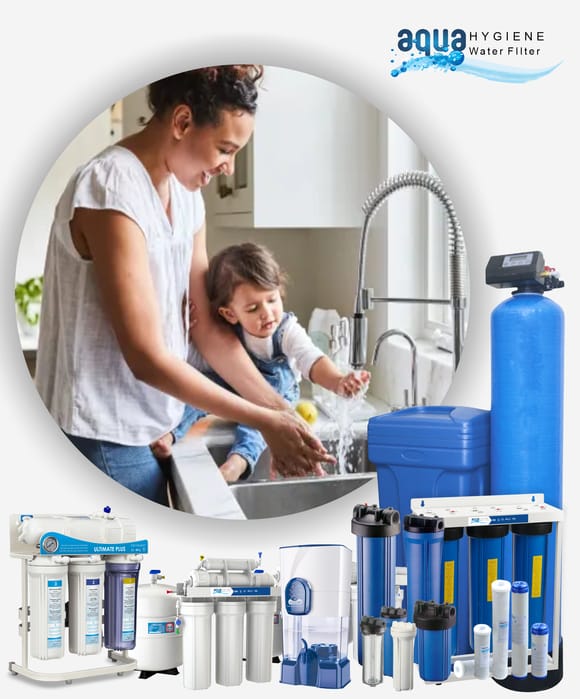 Welcome to Aqua Hygiene Water Filter Systems
About Us - Water Filter Dubai
Water filter in Dubai -  AQUA Hygiene's mission is to provide every family with clean refreshing contaminate-free water while providing the highest quality customer service experience.
Our Water Filtration Systems was founded for the sole purpose of filling a need in the residential & Industrial water filtration industry. Aqua struggles to deliver innovative solutions using the latest filtration technologies when developing state of the art whole home water systems and Reverse osmosis RO water filter, With over years' experience in water quality and a strong belief that every family deserves the complete purest filtered water available, Aqua is ambitious to ensure the best products at the best price.
Aqua always considers all industry standards that improve the quality of water by completely eliminating the harmful particulates and filth from the water and thus making it a preferred choice for procuring RO water purifiers and water treatment plants. Over the years of hands-on experience has helped us to achieve a benchmark in providing quality rich, innovative, and cost-effective purified water solutions and water purified products such as Water Purifiers, Reverse Osmosis (RO) systems, Alkaline Water filter Systems, and spare parts like Pumps, Aqua Water Filter Cartridges, RO Membranes, and all the water filter related spare parts and accessories.
Aqua Hygiene Water filter offers & deal in a wide range of aqua water filter, water purifier, drinking water filter, whole house water softener filtration, shower water filter, we supply and service in Dubai, Sharjah all over the UAE.
Reverse Osmosis Water Purifier
Water Filter in Dubai offers Reverse Osmosis for Residential and Commercial. Protect your water from contamination using the right kind of water filtration in order to remove sand, grit, silt, rust, colour, odour, and other impurities. Aqua Hygiene water filters remove 77 types of water impurities including over 96% of chlorine and chloramines as well as over 99% of lead, asbestos, turbidity, and VOCs.
4, 5, 6, 7  & 8
Stage of Purification
Our Blog
Aqua Hygiene Offer Best Purifiers in UAE for Home. Drinking water is often overlooked as a necessary part of staying healthy. Find out healthy water benefits with us. Our Blog on Water Treatment Questions, Explore Aqua Hygiene variety of articles discussing water filter education and home water filter systems. also learn about popular search quires about water filter in Dubai, water filter Sharjah and, drinking water filters Dubai, water filter uae and, etc
What Is a Water Softener and How Does It Work? If you're a homeowner, you're likely familiar with the frustrating challenges of hard...