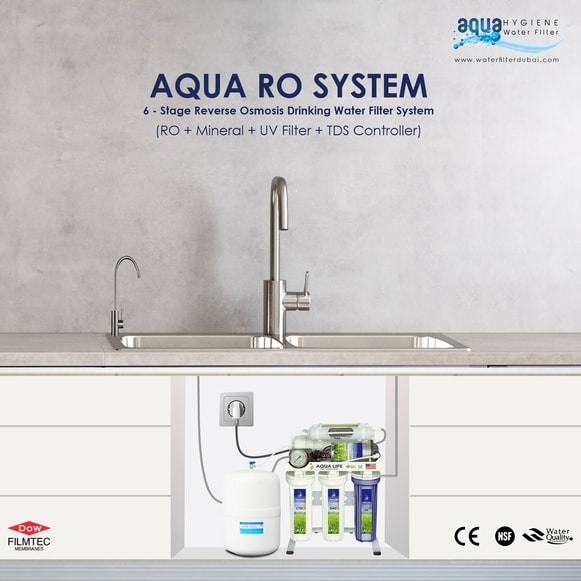 Best Water Purifier For Home
Aqua 6 stage water filter Reverse Osmosis (RO) under the sink System
Aqua Hygiene 6 Stage water filter reverses osmosis RO water purifier creates the ideal home water filtration system for the purest water possible. The 6 stages of filtration are specially designed for removes up to 99% reduction of major water contaminants to produce clean and refreshing water that everyone will enjoy. This will improve the flavor of coffee, tea, and ice cubes everything tastes better with RO water. Aqua 7 stage (RO+UV+PH) is a complete reverse osmosis water filter that will produce an unlimited supply of bottled-quality drinking water.
Learn more about Alkaline Water & Reverse Osmosis Drinking Water visit our blog
Reverse Osmosis Drinking Water
Stage 1: Sediment Filtration
Removes all the sediment and larger contaminants that are in your water.
Stage 2 & 3: Carbon Filtration
Carbon filtration to filter out chlorine, chloramine, herbicides, pesticides, and more.
Stage 4: Reverse Osmosis
Reverse Osmosis filters out heavy metals such as lead, mercury, arsenic, fluoride, iron, aluminum, and more.
Stage 5: Carbon Filtration
Cleaning phase and remove the additional contaminants that made it through the first 3 stages.
Stage 6: Remineralization Filtration
re-mineralizing calcium filter adds 100% gives essential minerals.