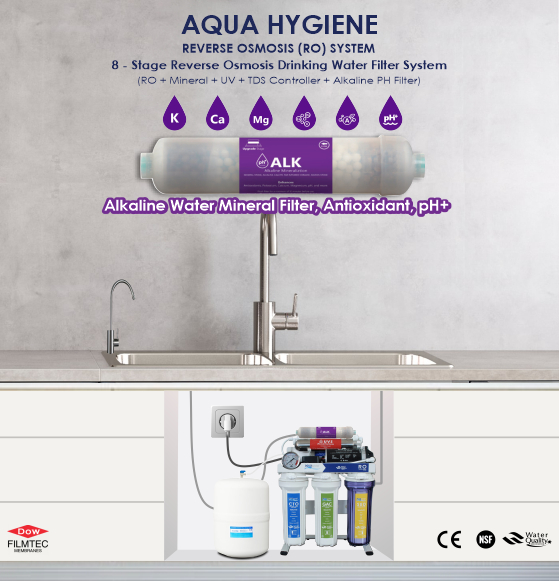 Alkaline Water Purifier Dubai
Aqua Hygiene Reverse Osmosis Alkaline Purifier for Drinking Water
This 8 stage Aqua Hygiene alkaline water purifier machine is built with high quality food grade material and the put through the same rigorous quality control process as our super popular ALKALINE100GPD systems. It offers the same high purity RO water and at 100GPD, this unit provides a faster-purified water production speed for families that desire the highest quality mineral drinking water.
Some alkaline RO systems may claim to add various minerals back into the water. However, their mineral formulations are often from unknown and unverified sources which can lead to potential health risks. Mineral intake is important, and we also suggest you should take the appropriate amount of minerals from licensed drug stores, Aqua Hygiene Alkaline water system mineral cartridge adds premium calcium carbonate to effectively raise pH and provides purified alkaline water. It provides only simple and essential alkaline water without any additives added to ensure your health.
Ph+ Drinking Water
Stage 1: Sediment Filtration
Removes all the sediment and larger contaminants that are in your water.
Stage 2 & 3: Carbon Filtration
Carbon filtration to filter out chlorine, chloramine, herbicides, pesticides, and more.
Stage 4: Reverse Osmosis
Reverse Osmosis filters out heavy metals such as lead, mercury, arsenic, fluoride, iron, aluminum, and more.
Stage 5: Carbon Filtration
Cleaning phase and remove the additional contaminants that made it through the first 3 stages.
Stage 7: UV water filter
Ultra-violet (UV) light sterilizes and destroys up to 99.99% of bacteria, viruses, and cysts in the water
Stage 8 & 6: Alkaline PH filter
PH+ alkaline re-mineralizing calcium filter adds 100% gives water alkalinity.