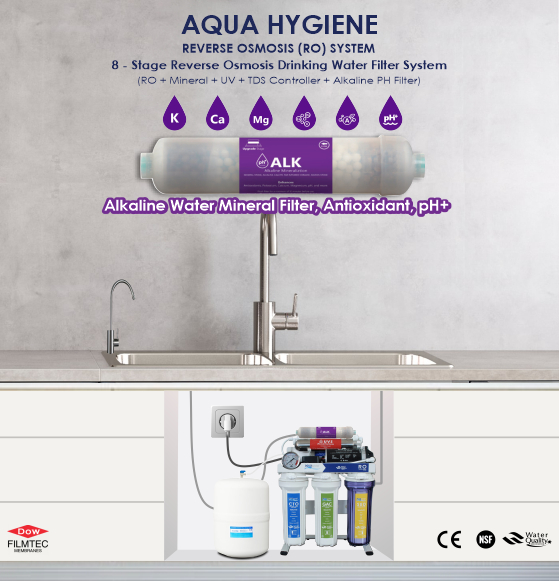 RO Water Purification system
Aqua Hygiene 7 Stage Under Sink Reverse Osmosis UV Ultraviolet Water Filter system
Aqua Hygiene introduces the UAE's most selling 7-stage Reverse Osmosis under-the-counter Water Purifier system, which utilizes multiple purification processes, including RO+UV+TDS Control, to provide 100% pure drinking water. It has a unique TDS controller that intelligently retains vital natural minerals in purified water. It works fine with the brackish, tap, and municipal water supplies. For efficient space utilization, this purifier may be placed under the sink counter for use with municipal water supplies.
A reverse osmosis water purifier system removes Salt, Sediment Minerals, Chlorine, Fluoride, Chlorine, Arsenic, Volatile organic compounds (VOCs), Pesticides, and Many other dissolved solids.
Water Filter for Drinking
Stage 1: Sediment Filtration
Removes all the sediment and larger contaminants that are in your water.
Stage 2 & 3: Carbon Filtration
Carbon filtration filters out chlorine, chloramine, herbicides, pesticides, and more.
Stage 4: Reverse Osmosis
Reverse Osmosis filters out heavy metals such as lead, mercury, arsenic, fluoride, iron, aluminum, and more.
Stage 5: Carbon Filtration
Cleaning phase and remove the additional contaminants that made it through the first 3 stages.
Stage 6: Mineral Filter
Retains Essential Minerals.
Stage 7: UV Filter
Remove 99.99% of harmful waterborne microorganisms