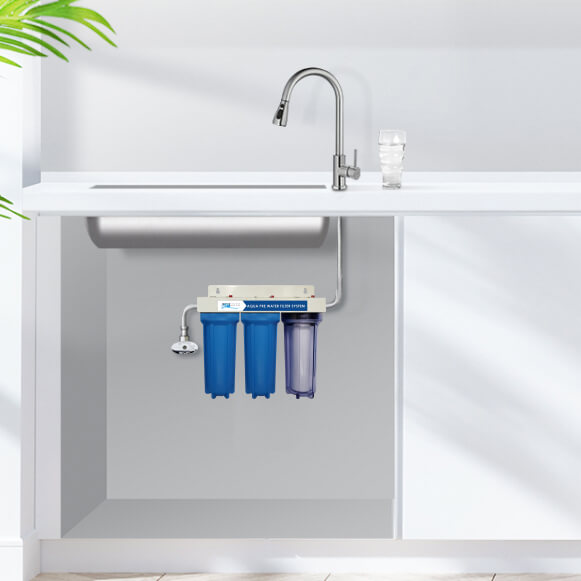 Under Sink Pre-Filtration System
Aqua Hygiene 3 Stage Under Sink Pre filtration Water Filter system
Pre-filtration is an essential step in any water filtration system. The Aqua Hygiene Stage Water Filtration System is equipped with three separate types of pre-filters to ensure optimal water quality. The first high-grade 10" polypropylene sediment filter removes large debris like dust, particles, and rust. The second and third stages are premium extruded carbon blocks that reduce chlorine, unpleasant odors, tastes, and chemicals from the water. All three pre-filters are designed and assembled in the UAE, ensuring a long lifespan and consistent filtered water directly at your tap.
Why is Prefiltration Important to Your Machine?
Installing a pre-filter system is essential for protecting the Reverse Osmosis water purifier system, coffee machine, ice machine, and other water systems like Enagic Kangen water. Our high-quality Undercounter 3-stage pre-filtration Water Filter System includes a powerful pre-filter that is designed to extend the life of the RO membrane and other water filter systems and help prevent potential fouling and scaling. With a pre-filter system in place, you can rest assured that your System will be providing you with clean and healthy water for longer!
Aqua Hygiene presents a 3-stage under-sink water filter system to give you bottled quality water with ease. This filter system is simple to install and maintain and consists of dual carbon filters (GAC and CTO) and a high-capacity Polypropylene (PP) sediment filter. These components are designed to work together in the process of extracting hazardous contaminants, like chloramine, from your tap water. The sediment filter also helps extend the life of your reverse osmosis RO water purifier membrane, Ice machine, or coffee machine,  so it works more effectively and efficiently.
Water Filter for Drinking
Stage 1: Sediment Filtration
Removes all the sediment and larger contaminants that are in your water.
Stages 2 & 3: Carbon Filtration
Carbon filtration filters out chlorine, chloramine, herbicides, pesticides, and more.