General Shower Filter | Reduces chlorine by up to 95%
General Shower Filter reduces chlorine by up to 95% while significantly decreasing the amount of scale build-up in your shower. By doing this the Shower Filter reduces chemical absorption & vapor inhalation in the shower environment while you bathe!. Proprietary filter media also kills bacteria and inhibits the growth of bacteria, algae, and fungi. Reduces the levels of hydrogen sulfide, iron, and iron oxide. As an added benefit our filter media is completely safe, so the process is not toxic and does not cause any adverse side effects.
Effective in both Hot & Cold Water.
Reduces up to 95% of Chlorine in the Shower.
Reduces chemical absorption and vapor inhalation in the shower environment.
Reduces the levels of hydrogen sulfide, iron, and iron oxide.
Contains bacteriostatic media.
Reduces damage to hair and skin.
Back Flush Attachment to prevent premature clogging.
Teflon sealing tape NOT included
39
People watching this product now!
Related products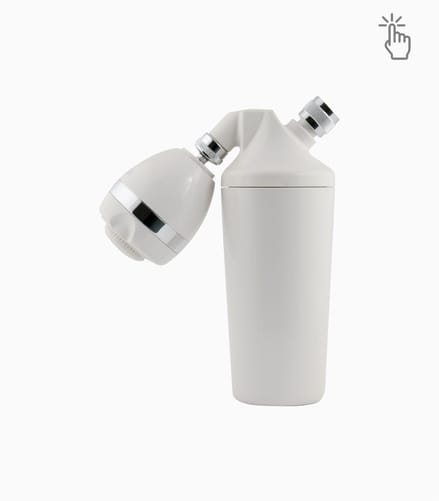 With Aqua Deluxe Shower Water Filter System, you are assured of showering only in pristine water. The unit comes with copper-zinc and coconut shell carbon mix that reduce iron, lead, chlorine, pesticides, mercury, herbicides, and hydrogen sulfide from your bathing water. The unit ensures that you get water that is gentle on your hair and skin by reducing harsh chlorine as well as other chemicals that makes the water hard. It also makes your skin to be more moisturized and makes your hair to be healthier and shinier. Another great thing about this filter is that it enables you to breathe easily while taking your shower. And the best part, it comes with various settings that enable you to customize your shower experience.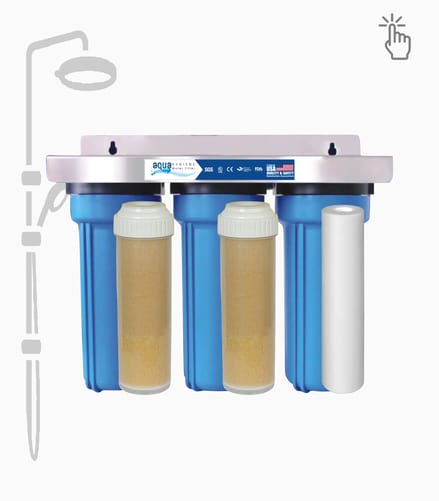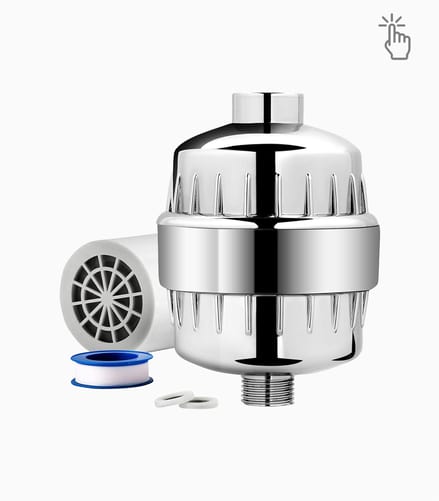 Transform Itching, Eczema & Acne into Glowing Hair, Nails & Skin Fast
Aqua purifies your bathing water by removing heavy metals, chlorine, pesticides, bacterial, and prevents the development of mold, fungi, scale, and algae. The unit also reduces dry itchy skin, eczema, dandruff, and improves your skin, nails, and hair condition to revitalize your body. Featuring multi-stage filtration, the unit comes with a unique blend of calcium sulfite, KDF 55, and activated carbon to ensure optimum filtration in both cold and hot water. The unit works with all types of showerheads, including handheld, rain, and fixed showers.
 No Tools Required – Screws On to Your Current Showerhead
 Promotes Stronger Hair & Nails
 Purifies Your Water. Beautifies Your Body
 Supports Elimination of Acne. Dandruff. Eczema & More
 Universally Compatible – Rainshower. fixed or handheld